GENSEC fits anyone
For every type of individual on the planet, there is a GENSEC home security solution that suits them – no matter the budget, lifestyle or need. As long as you have the income, fit our lifestyle requirements and meet our customer description criteria we will keep your family safe and secure. As for most of our civilian customers, what really matters – what really gives them a peace of mind – is knowing that their expensive stuff is safe. Our products require knowledge of machines and computers and should only be handled by the husband and/or eldest son, as any misstep might cause GENSEC security staff to fatally wound a member of your household.
The GENSEC™ 24-Hour Burglary & Theft Monitoring System
Our most popular system offers a 24-hour burglary & theft monitoring of your premises. Even though it's missing some vital parts of our security solutions, be sure that you can sleep relatively well at night knowing that you are partially protected.
The GENSEC™ Automatic Shutter System
Re-enforcing the other security solutions we provide, the Automatic Shutter solution works very well together with the rest of our solutions. On its own though, there is a minimal risk that it might drain the "oxygen" levels to such a level that you might suffocate (read: die). If this is the only solution you can afford right now, please make sure you buy the GENSEC oxygen back-up units to make sure you last longer in case of said risk happening.
The all-new GENSEC™ Panic Button
Enjoy a peaceful lifestyle knowing that our home security staff are ready to protect you 24 hours a day, seven days a week with the all-new GENSEC™ Panic Button. The highly trained GENSEC security professionals are always on stand-by. As soon as you push that GENSEC™ Panic Button, they will appear within 20 minutes, saving your life. The GENSEC™ Panic Button is a must-have for anyone that likes living and keeping their valuables safe.
And much, much more…
Can't build those walls high enough? Let us at GENSEC help you by suggesting these great solutions. If we can't keep you safe within the first three months after installing your specially tailored GENSEC home security solution, we will give you a 100% refund.*
Contact your nearest GENSEC representative for a special offer right now on one of the home security solutions below.**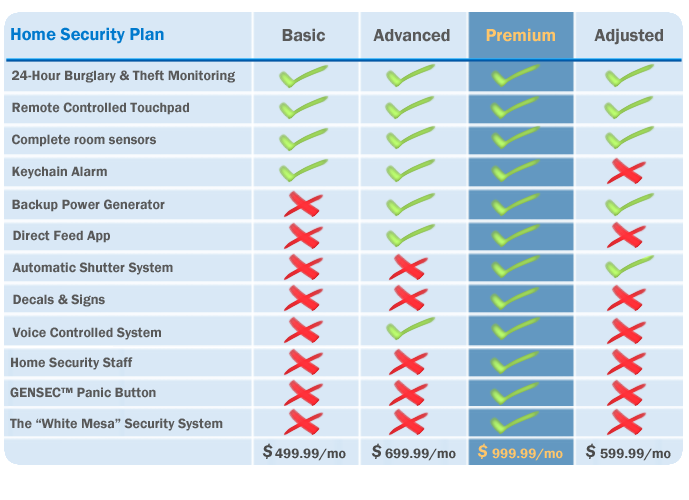 *Please note that said owner must have been beaten up, stabbed, maimed, bestolen or other henious crime within the premises of installed security system for this to be in effect.
**Please note that said special offer may or may not be more expensive than original offer. Contact your GENSEC representative to find out.